"An all-inclusive, fun, social mixology class where a group of friends (or new acquaintances) can interact in a more intimate setting than a bar"—

Owen Meyer, Founder/President
I was lucky enough to ask the Founder/President of Liquor Lab, Owen Meyer, a few questions prior to my personal experience at Liquor Lab. Owen told me "Liquor Lab is an all-inclusive, fun, social mixology class where a group of friends (or new acquaintances) can interact in a more intimate setting than a bar, but still have the casual setting of being in a social environment. Perfect for groups to get to know each other or build on their existing friendships. He said, "Think of Liquor Lab as a cooking class, but solely for specialty sips. While learning about recipe history and preparation, attendees shake, stir and sip delicious drinks. A category-specific professional leads each instructional session, as guests follow along step-by-step and discover the evening's focus in a fun and exciting atmosphere."
I found Owen's description to be spot on with my experience. My friends and I did feel as though we were walking into a cooking class. The room was set up with long lab tabs with all of the instruments/tools you nee to make the amazing concoctions. The Cocktail Professor greets you and shows you to your seat. Then you eat and mingle prior to starting the class. Once the class starts you, you learn about the first cocktail, make the cocktail, then you have a break to mingle, take pictures of your drink, eat more, etc. It is a great experience if you are looking for a classy Bachelorette Party idea prior to hitting the town. The location is just off-Broadway, on 2nd Avenue (next to Wildhorse) so it is the perfect place to start your night out before you hit up the Broadway Bars or Nashville's speakeasy scene.
This class like experience is great for everyone. Whether you have never made a fancy cocktail or you have prior bartending experience (like I do) this class is still a blast. It challenges you to make drinks you may have never made and to try drinks you didn't think you would like. It is amazing what you might like if the drink is made right!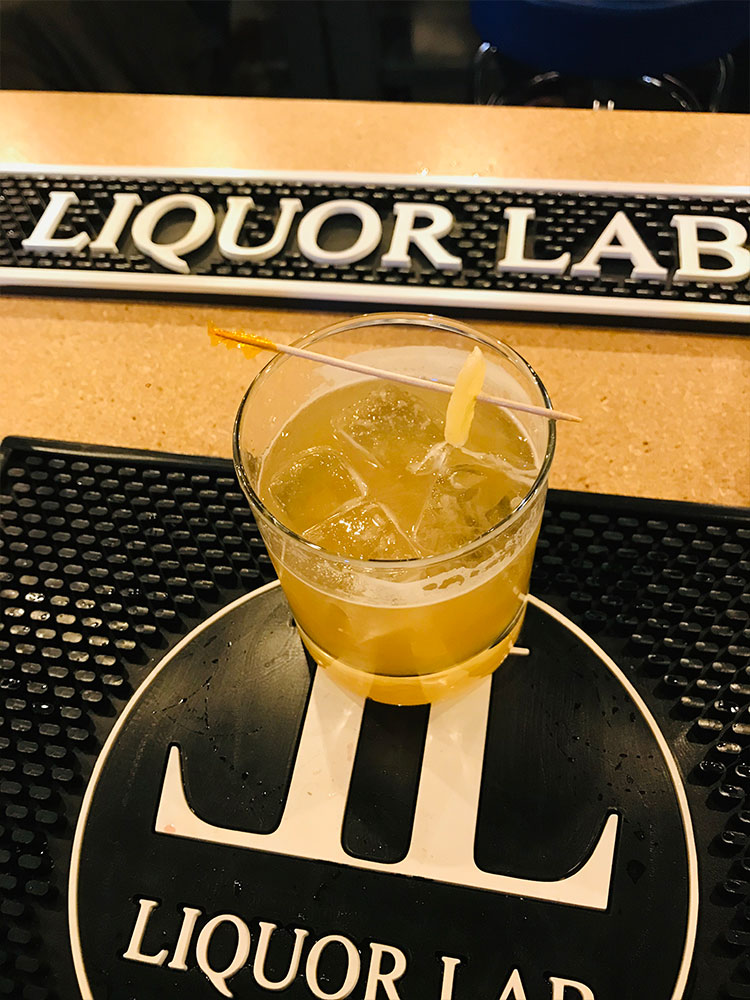 When I asked what the most popular item was, Owen said, "The cocktails! Also, we have launched Dollar Cocktail Club, a takeaway kit that you can use at your Airbnb or hotel to make cocktails before heading out to your next locale."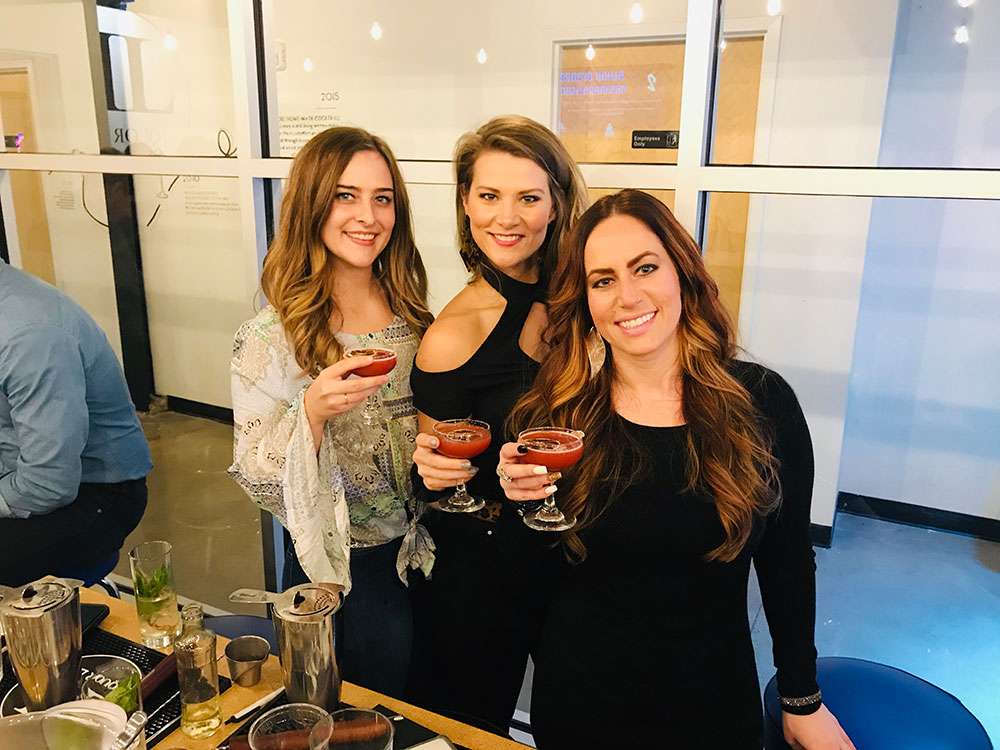 Owen was right about the Dollar Cocktail Club takeaway kit being popular. My friends and I each bought a couple. They are kits that hold everything you need to make your favorite drink (like a Bees Knees or Dirty Martini). You just need to buy a bottle of liquor to pair it with and the kit makes 12 drinks. So for $12 per kit, you get ingredients for 12 drinks hence the Dollar Cocktail Club. These are the best kits to have on hand for a party or just to give away as a great gift with a bottle of liquor!
Owen also said, "Liquor Lab has a number of IG-worthy spots all over the lab.  From our Instagram booth where you can show off your latest cocktail, to our boomerang station where groups can take fun photos, GIFs and Boomerangs.  We have incredible cocktail-themed murals from local artists throughout our location." 
 You can see that my friends and I took advantage of quite a few of the Instagram spots. We loved the Boomerang station and the opportunity to take some professional-looking photos of our cocktails. We are ready to impress our friends with our skills at home now! 
Pro Bach Tip:
As Owen mentioned, you do not want to miss the chance to take a photo of your drink in their cocktail photo booth. Take it from me and make sure you eat at the beginning of the event and maybe even in between drinks because let me tell you by drink number 3, you start to feel it! You do not want to drink these drinks on an empty stomach. Also, I recommend requesting Professor Baker. He was witty, funny and all-around a great instructor!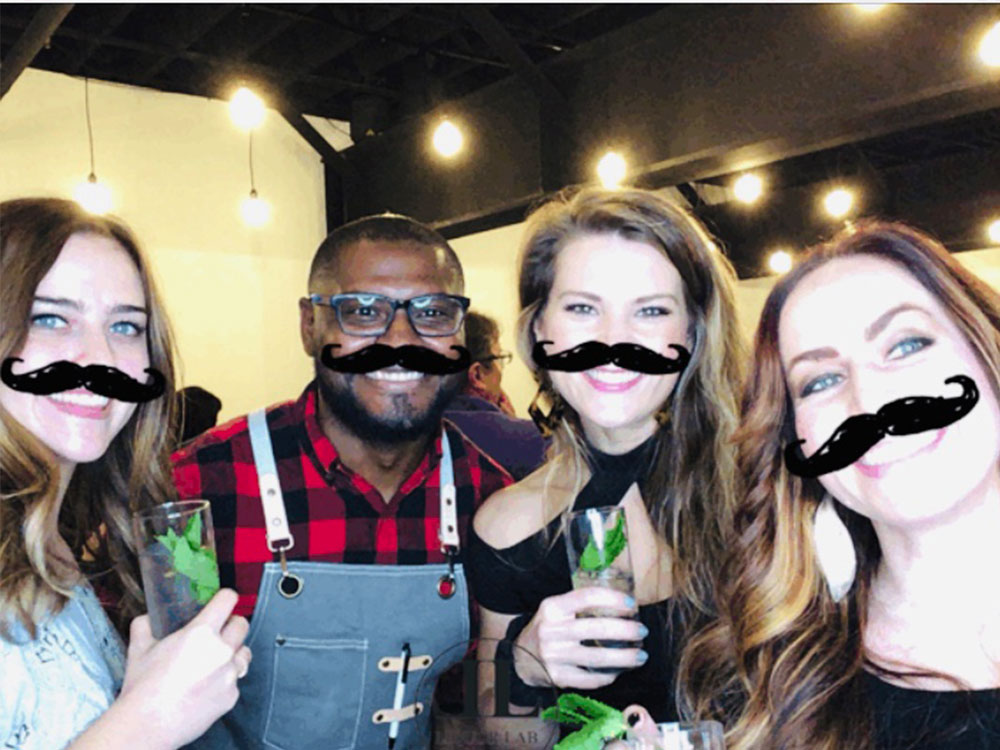 Location:
144 2nd Ave N, Suite 10, Nashville, TN
Instagram handle: @liquorlab